After months of research, continued odor complaints and failed remediation plans, Fresh Air For the Eastside, Inc. and more than 200 individual residents of Fairport, Macedon and the surrounding areas, through their attorneys Knauf Shaw LLP, have filed a petition with the New York State Department of Environmental Conservation (NYSDEC) seeking to modify Waste Management's (WM) Solid Waste and Air permits to operate the High Acres Landfill.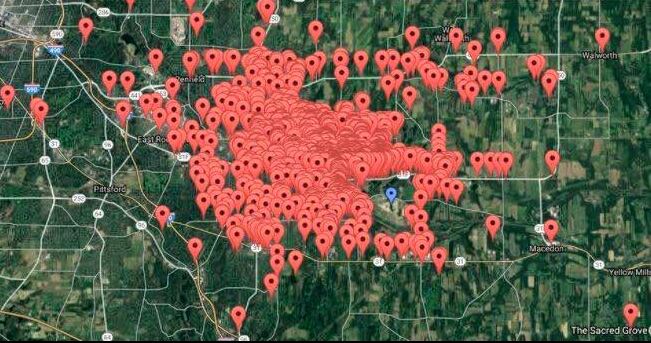 Documents obtained from the town of Perinton, Macedon and NYSDEC, as well as oral testimony from WM and its engineers at a January 16th, 2018 Perinton Conservation Board meeting, has led the legal team to conclude that there is sufficient documentary evidence that WM violated, and continues to violate, their permits by:
Creating an ongoing public nuisance by their past and continued failure to control odors from High Acres landfill in violation of the permits, which prohibit the creation of a nuisance.
Eliminating without written permit authorization horizontal collector pipes, which are the primary means of odor control for their landfill gas management system, as required by the permits.
Improperly managing the 1,555-daily tons* of NYC municipal waste coming into the facility via rail in a manner that does not cause excessive odors.
Performing insufficient analysis on what impacts the rail cars containing old putrescible trash would have on the surrounding communities.
The Petition alleges that NYSDEC should modify WM's permits to close the Perinton side of the landfill and significantly limit the volume of trash received by rail because of the continuing permit violations, an irretrievably compromised landfill gas collection system in Cells 10 and 11 that should not be reopened again, and the previously unidentified impacts associated with rail receipt of trash on odor management at the landfill.
"Filing this DEC petition to modify the WM permit is the first step forward in protecting our community and I cannot thank our supporters enough for helping us get to this point. Residents have been patiently waiting for local officials and the NYSDEC to enforce permits and reign in a negligent, multi-billion-dollar corporation and this Petition is the first step in making that happen. After more than a year of being severely impacted by noxious odors and gasses while WM tries to fix its negligence, it is time to take matters into our own hands and file this necessary administrative action." – Gary McNeil, President of FAFE, Inc.
"WM only has the right to operate this Landfill because of its permits, but this right to operate now needs to be re-evaluated through this permit modification request since the company has been unable after an entire year of trying to keep its odors under control in violation of the very permits that allow it to operate." – Linda Shaw, Esq. Knauf Shaw LLP
Fresh Air for the Eastside, Inc (FAFE, Inc.) is a grassroots community group that was born out of concern for the quality of life and the health of residents in areas impacted by High Acres Landfill. With the help from their members FAFE, Inc. has logged over 9,400 complaints against the Waste Management owned facility since November 4th, 2017.
Media Contact: FreshAirFortheEastside@gmail.com
*Source: Waste in Place Summary, 2017 High Acres Annual Report